Vineyards
STA. RITA HILLS (Santa Rita Hills)
Recognized as an official AVA in 2001, the tiny Sta. Rita Hills appellation is located in western Santa Ynez Valley where cool temperatures and marine fog make it ideal for premium Pinot Noir. The soils are low-fertility, well-drained clay loam, rich in calcareous matter, which promotes firm structure and pure fruit expression in the grapes. The wines are concentrated with a dark wild blackberry character, their rich tannins suggesting excellent aging potential and development in the bottle.

One of the most fascinating qualities of Pinot Noir is its dynamic character and how genuinely reflective it is of a specific site. While the wines of Sta. Rita Hills all share a common theme, each vineyard has a unique, further refined expression. Based on my experiences, I have selected a handful of vineyards to source for Ken Brown Wines and work very closely with vineyard owners and managers to ensure we optimize each vineyard's unique signature. Three gems of the Sta. Rita Hills region—Clos Pepe, Cargasacchi and Rancho La Vina—produce outstanding Pinot Noir and figure prominently in our Pinot Noir program.
Clos Pepe Vineyard
This family-run estate of only 28 acres is farmed with meticulous attention to detail that has propelled the vineyard to the forefront of the Sta. Rita Hills appellation. The soils are low-nutrient sandy and clay loam, rich with calcium and calcareous shale, which helps to naturally restrict yields. The resulting wines are intensely flavored with a pure core of blueberry and blackberry fruit expression.
Cargasacchi Vineyard
This 16-acre property is located at the extreme west end of the Sta. Rita Hills appellation where its proximity to the Pacific Ocean makes it one of California's coolest vineyards. Planted in 1998, the vineyard is already producing Pinot Noirs of superior quality. The soils consist of ancient sea floor sediments made up primarily of calcareous shale. The low-nutrient environment combined with ideal clonal selections result in low-vigor vines, which produce rich, complex wines.
Rancho La Viña Vineyard
Rancho La Viña Vineyard is located at the far western edge on the south side of the Sta. Rita Hills appellation. The first phase totaling 17.2 acres was planted in 2005 on a gently sloped mesa, which is several hundred feet above the valley floor. The site is fully exposed to the cool winds coming off the Pacific Ocean, making it one of the coldest Pinot Noir plantings in California. The marine influence and windy location along with low fertility soils result in very small berries, which in turn give the wine its remarkably deep, dark color and intense flavors.
The plantings consist of the four most highly regarded clones of Pinot Noir—115, 2A, 667 and 777—which are grafted on 101-14 and 110R rootstocks. The vine spacing is 7'x 4' for a planting density of 1,556 vines per acre.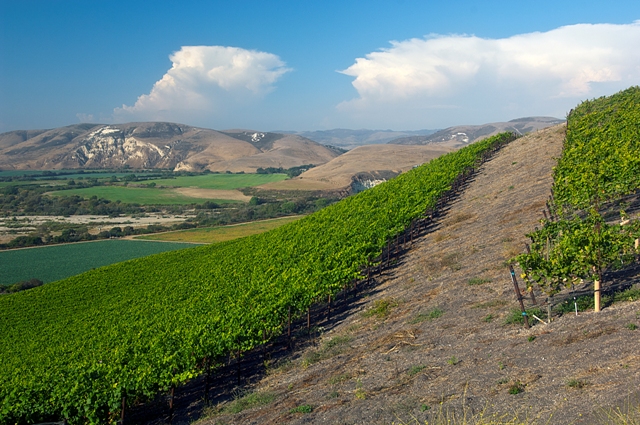 The first year of production from this vineyard was in 2007. The crop produced extraordinary wine that is intense in color with rich aromas of wild blackberry, blueberry and a defining minerality, which has become the trademark of Pinot Noirs from the colder end of the Sta. Rita Hills. Successive vintages have shown the same profound color and Pinot Noir fruit intensity that will surely make this vineyard one of the most noteworthy Pinot Noir vineyards in the new world.