JOIN US FOR A NEW RELEASE PARTY AT THE KEN BROWN TASTING ROOM!
157 W. Hwy 246 in Buellton

In celebration of
Taste of the Santa Ynez Valley

SUNDAY, OCTOBER 20 from 11:00 to 4:30

Help us celebrate the release of two exceptional new wines, 2016 Rancho La Viña Pinot Noir and 2015 Thompson Vineyard Syrah! Both are very small lot, limited production wines. Light appetizers provided by Louise's Kitchen Table. No reservations required.

Check out all the Taste of the Santa Ynez Valley events happening this weekend.





NEW RELEASES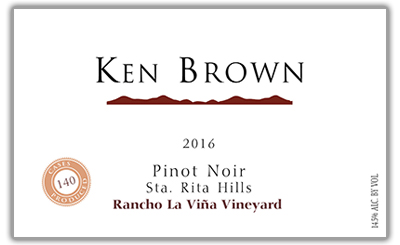 2016 RANCHO LA VIÑA PINOT NOIR
Located at the far western edge of the Sta. Rita Hills appellation, this 17-acre vineyard is fully exposed to the cool winds coming off the Pacific Ocean, making it one of the coldest Pinot Noir plantings in California. The wine displays aromas of black cherry and cassis enhanced by rich earth tones, violets and a touch of clove. On the palate, flavors of blackberry and ripe plum are accented by hints of coffee and vanilla bean. The well-structured tannins are nicely balanced by the bright acidity typical of Sta. Rita Hills. Additional cellaring will add even more layers of complexity to this wine, assuring excellent aging potential. Only 140 cases made. More info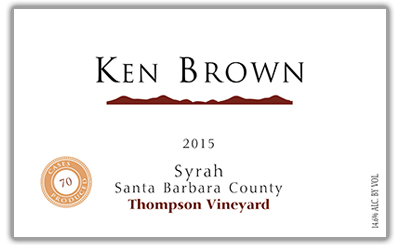 2015 THOMPSON VINEYARD SYRAH
Located in the Los Alamos Valley, Thompson Vineyard was planted in the late 1980s and has a well-deserved reputation for outstanding Syrah. The wine features intense aromas of black raspberry, boysenberry and pomegranate are complemented by hints of cedar and herbes de Provence. The flavors are bold and rich with accents of raspberry jam, cracked black pepper and savory roasted fowl. Velvety, well balanced tannins span the wine from beginning to end, culminating in a remarkably long, opulent finish. Noted for its exceptional ageability, this Thompson Vineyard Syrah will continue to develop complexity and richness for a decade or more. Only 70 cases made. More info

We're on the home stretch for Harvest 2019! Follow the action here.

See the complete Ken Brown Calendar of Events.