2016 Harvest

August 18, 2016: A big milestone! Ken kicked off his 40th harvest in Santa Barbara County, bringing in our first grapes of the season--4.4 tons of Sauvignon Blanc from the Vogelzang Vineyard in Happy Canyon, Santa Ynez Valley. Ken says aromatics and flavors are excellent. Crop size was about 15% below estimated totals, better than last year which was 35% below estimates. Juice is cold settling and will be racked and inoculated on Saturday.


August 23, 2016: Early morning picks in the Sta. Rita Hills! 2.8 tons of Pinot Noir from Block 4D at Sanford & Benedict and 3.9 tons of Rita's Crown Pinot Noir from Blocks 14A (clone 667), 14B (clone 777) and 14C (clone 828). Everything looking great. Yields are running about 20% below average, up slightly from the 2015 vintage.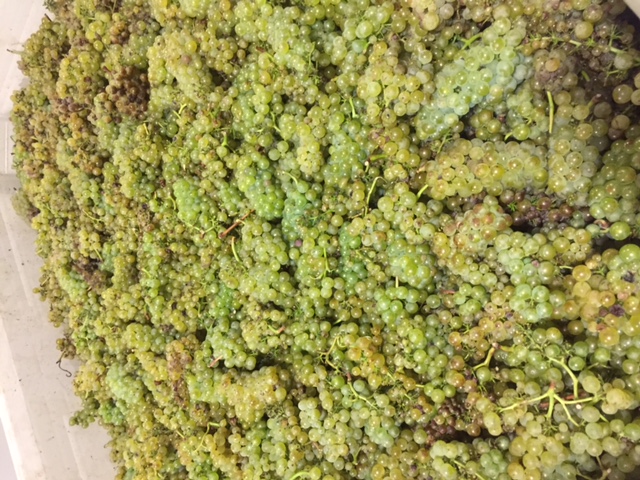 August 25, 2016: Back out to the windy slopes of Rita's Crown Vineyard this morning. Finished picking our Pinot Noir--1.4 tons from Block 18. Also harvested just under 2 tons of beautiful Chardonnay from Block 25B. Check out our videos! Hand sorting the Chardonnay Download Sorting Chard.MOV and freshly pressed Chardonnay juice Download Chard Press.MOV

August 26, 2016: We were at the easterly end of the Sta. Rita Hills today at Rio Vista Vineyard. Picked one of two blocks we have at this consistently excellent vineyard. Brought in about 6 tons of Pinot Noir. Performed a saignee, or juice draw so we will have a Vin Gris from the 2016 vintage! Today's pick puts us at about 25% completion of our harvest plan, remarkable considering we began harvest just over a week ago.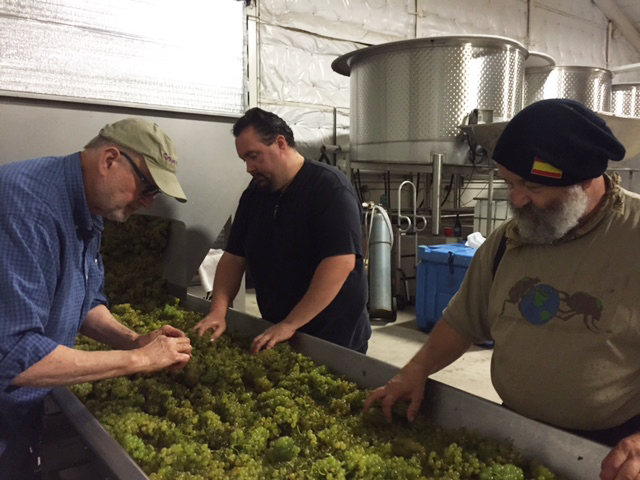 August 30, 2016: Harvested another block of Chardonnay at Rita's Crown Vineyard today--2.5 tons from Block 21 (Chardonnay clone 124). Fermentations for our Sauvignon Blanc, Rita's Crown Block 25B Chardonnay, and Pinot Noir from Rio Vista, Rita's Crown and Sanford & Benedict are going well.

September 4, 2016: Cooler weather has slowed things down a bit. Spent the day sampling in the vineyards. We're looking at general condition of berries and clusters, as well as the canopy (leaves) for signs of yellow which suggests the vine is getting ready to shut down, drop leaves and no longer be capable of continuing to ripen the crop. Of course, we're also tasting the grapes evaluating the many variables in seed, skin, juice color and flavor profile. The forecast is calling for continued cool weather with a possible heat bump mid to late week. Depending on conditions, we hope to harvest some or all of our Rancho La Vina and Sanford & Benedict Pinot Noir and perhaps some La Encantada Pinot Noir by the end of the week.

September 6, 2016: As expected, we harvested about half of our Rancho La Vina Pinot Noir today, 4 tons from Block 1. Rancho La Vina is known for its deep color, and looks like this vintage will be no exception.

September 8, 2016: Today we harvested 2.8 tons of Pinot Noir from Block 8 of La Encantada Vineyard, located in the heart of Sta. Rita Hills just west of the legendary Sanford & Benedict Vineyard. We also picked about 4.5 tons of Pinot Noir from the Zotovich Vineyard, a meticulously farmed vineyard in the northern corridor of Sta. Rita Hills.

September 9, 2016: Picked about 3.1 tons of Pinot Noir from Block 12 at Rancho La Vina. Leaving the clusters on a portion of Block 12 on the vine for a few more days.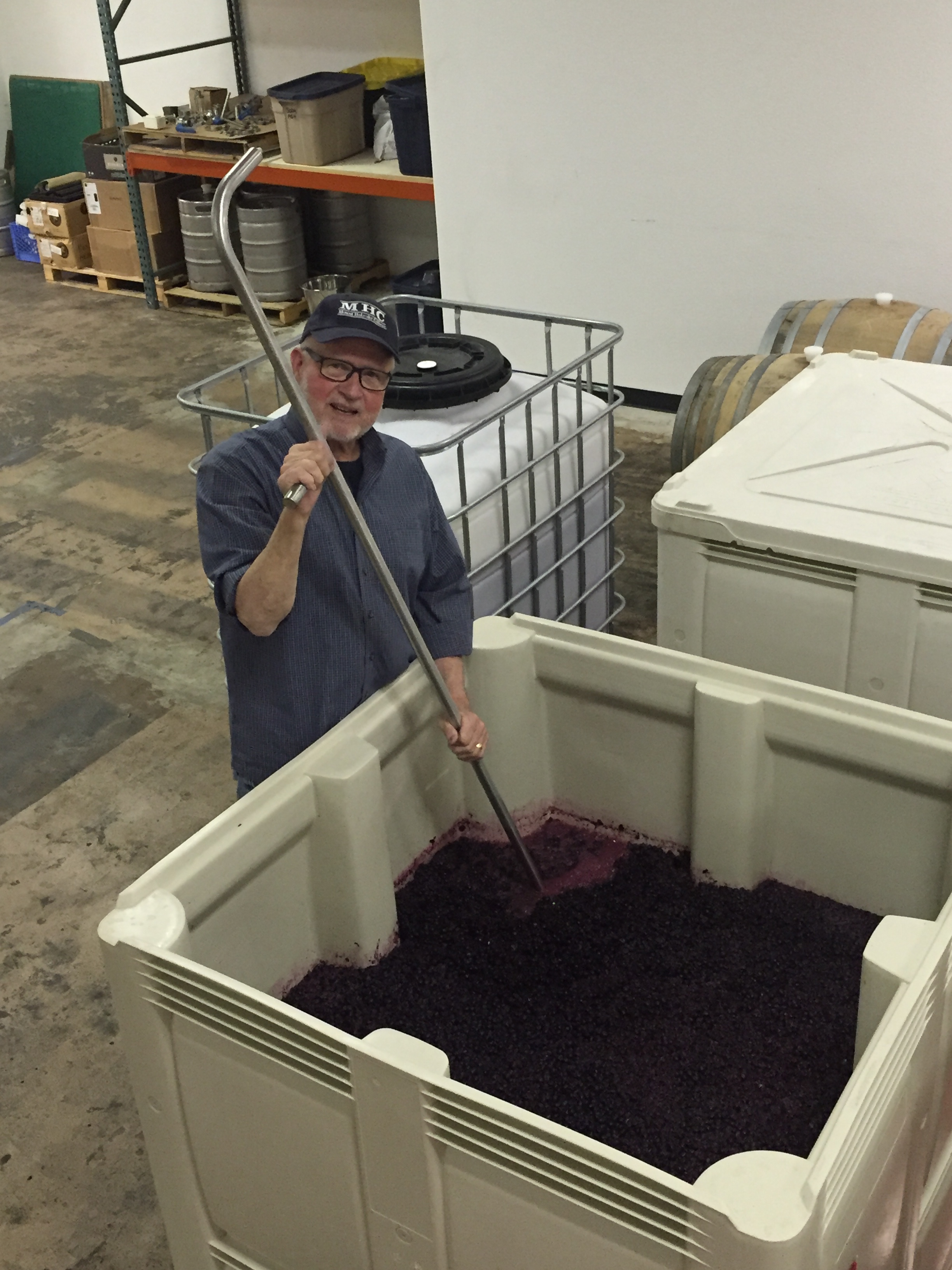 September 10, 2016: Finished up a very busy week at Rio Vista Vineyard where we picked 2.1 tons of beautiful Pinot Noir clusters.

September 12, 2016: We were at the legendary Sanford & Benedict Vineyard today picking Pinot Noir from Block 9A, nearly 3 weeks after we picked Block 4D on August 23. Today's tonnage was about 2.7 tons.

September 14, 2016: Back to Rancho La Vina today where we picked the remainder of Block 12, about 3 tons of Pinot Noir. We also brought in 3 tons of Pinot Noir from the Hilliard Bruce Vineyard, our first pick from this picturesque vineyard located along the Highway 246 corridor in Sta. Rita Hills, just west of Clos Pepe. In the cellar, the Rita's Crown and Rio Vista Pinot Noirs have completed the primary fermentation. They have been pressed and barreled down into small French oak barrels where they are commencing the secondary malo-lactic fermentation. Sampling our Syrah vineyards tomorrow to see where they stand. Looks like Radian Pinot Noir may be ready on Friday!

September 16, 2016: Both blocks of our Radian Vineyard Pinot Noir were ready today. We harvested Block 40 (clone 115) and Block 41 (clone 667) for a total of 8.6 tons of really beautiful Pinot Noir.

September 20, 2016: We returned to La Encantada Vineyard today where we harvested about 3.2 tons of Pinot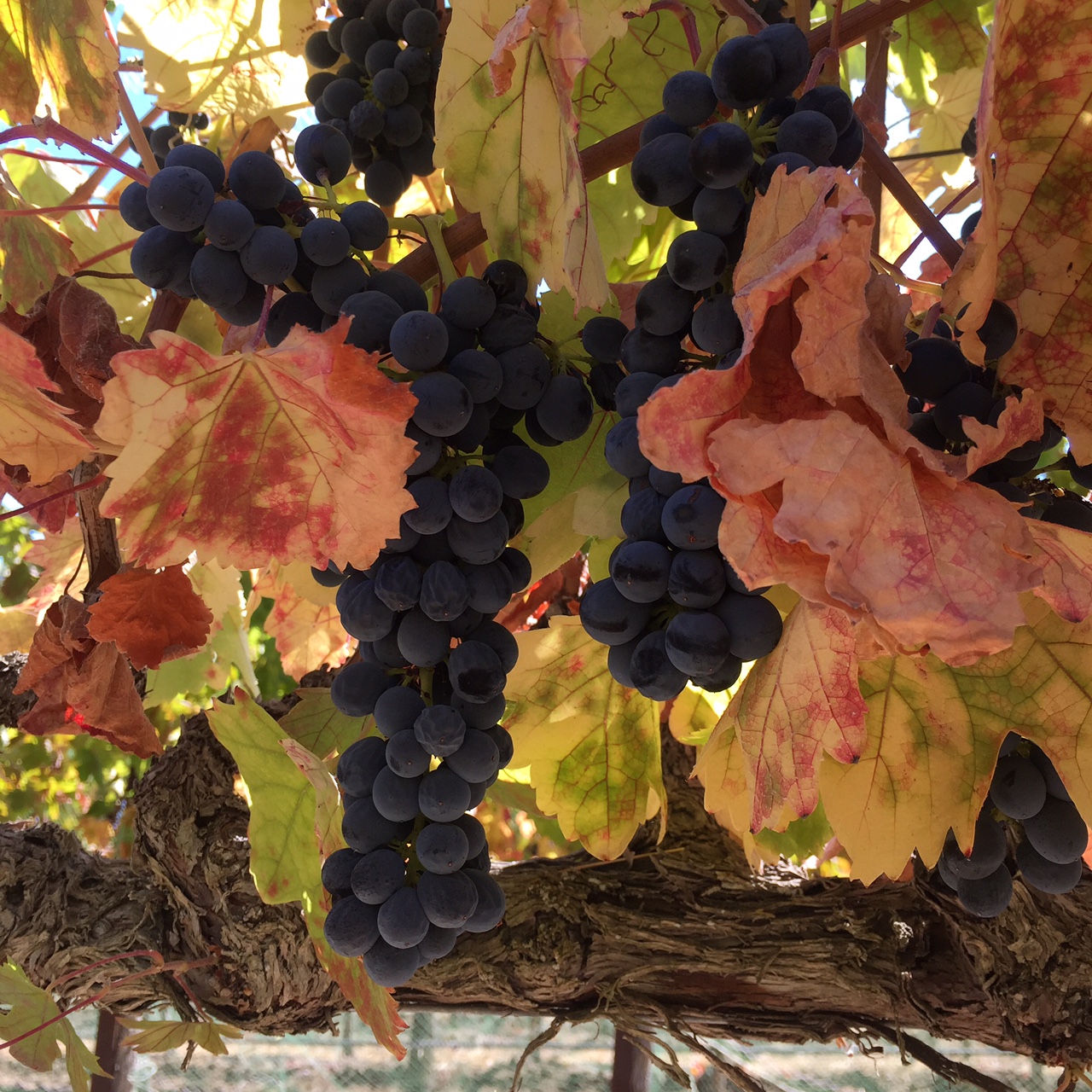 Noir from Block 5N, which is the Swan clone, one of Ken's favorite Pinot Noir clones.

September 21, 2016: Harvested the last of our Pinot Noir for the 2016 harvest! We picked Blocks 2 and 6 at Rio Vista Vineyard for a total of about 8 tons. We also brought in the first of our Syrah fruit--about 1.5 tons from the McGinley Vineyard located in the Happy Canyon appellation of eastern Santa Ynez Valley.
September 23, 2016: Brought in about 3 tons of stunning Syrah from the Watch Hill Vineyard in Los Alamos Valley. Now just waiting for the Thompson Vineyard Syrah to ripen.
October 10, 2016: Wrapped up the 2016 harvest with our pick at the Thompson Vineyard in Los Alamos Valley--2.7 tons of Syrah. Fruit looks fantastic as is always does from this excellent vineyard. A perfectly timed heat bump last weekend gave us just the heat units we needed to ripen the fruit. Ken's 40th harvest is in the history books!