2012 Harvest

9/14/12
: Harvest is underway with four tons of Clone 114 Pinot Noir from the Nielson Vineyard in Santa Maria Valley. Tomorrow we will be harvesting about 4 tons of Wente Clone Chardonnay also from the Nielson Vineyard. Here we go...
9/15/12
: Brought in 4.21 tons of Nielson Chardonnay from Santa Maria Valley--looks beautiful!
9/26/12: We brought in a little over 8 tons of Rita's Crown Pinot Noir. We're very excited about this new vineyard, located high atop a hillside property with commanding views of the Sta. Rita Hills. We also brought in 5 tons from Rio Vista Vineyard, one of our most consistent vineyards over the years. This vintage shaping up to be fast and furious... perhaps the most rapid vintage in many years!
9/28/12
: We just finished bringing in the third block of Rita's Crown Pinot Noir this morning and will begin hand sorting within the hour.
9/29/12
: We received 2.29 tons of some of the most beautiful grapes I have ever seen from our south side/Pommard clone section of Clos Pepe. We are scheduled to receive the north side of our Pommard Pinot Noir Wednesday morning.
9/30/12
: A day off from picking but much to do in the winery to digest everything that has come in the past few days.
10/1/12: We received another delivery of incredible quality grapes, this time from the Garey Vineyard in Santa Maria Valley. Yields were below projections.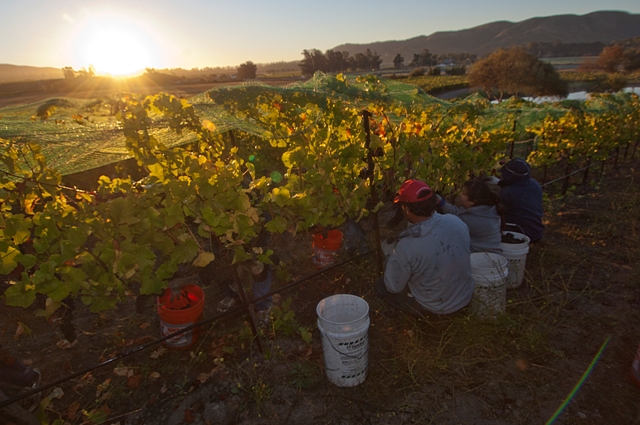 10/2/12
: Another very good looking pick today of clone 777 Pinot Noir from Buona Terra Vineyard, a new vineyard located between Cargasacchi and Lindley vineyards in Sta. Rita Hills. We anticipated 1.5 tons, but actual yields were less. Harvest of our north side Pommard Pinot Noir at Clos Pepe began at 9:00 tonight.
10/3/12
: Clos Pepe Pinot Noir was delivered to the winery first thing in the morning and was destemmed and into fermenters before our last section of Rio Vista Pinot Noir that was picked this morning arrived.
During the last few days we have seen some of the hottest temperatures we have had this year. The timing is perfect to push any vineyards to full ripeness that would have otherwise lingered. Thursday we are planning to bring in our Pinot Noir clone 667 at Radian and then clone 115 at Radian will be harvested on Saturday. Just in case you thought we were going to take Friday off I decided we were having too much fun with harvest so we are going to pick La Encantada Pinot Noir on Friday.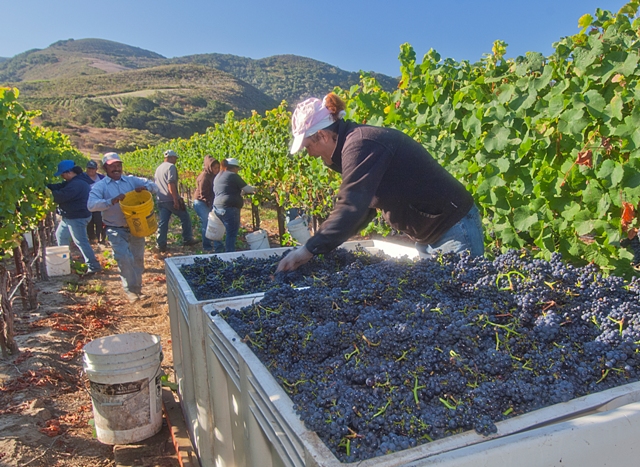 Cargasacchi Pinot Noir needs more time as does Watch Hill Syrah. Cargasacchi Vineyard which is generally our last Pinot Noir vineyard to harvest will likely come in next Monday or Tuesday. Yields will be low again this year but that generally bode very well for great quality from this vineyard.
Syrahs will begin to be ready for harvesting by mid to late next week. One more heat bump and harvest could be over by mid-October which would give us extra cause to celebrate on October 13th at the Celebration of Harvest. Get ready for some spectacular wines from the 2012 vintage. It looks as if it has the potential to rank amongst the best on everyone's vintage charts.
10/4/12: We harvested our Pinot Noir Clone 667 at Radian Vineyard in Sta. Rita Hills today. The crop came in 50% below projections. There seems to be a pattern emerging that the longer the grapes stay on the vine to mature, the lower the yields. The early grapes that were harvested in September were all close to projections, but since October began, yields are falling short. This suggests potentially outstanding quality, but case production will be below expectations. We are becoming used to this pattern since the last four vintages have all produced low yields and very high quality. This is a good trade off, but it does result in more expensive grape costs.
10/5/12
: La Encantada Pinot Noir was just picked today and it too looks impressive but with low yields. As of this morning we are over 90% finished harvesting our Pinot Noir vineyards with only two more days scheduled for picking Pinot. I will be tasting the Cargasacchi grapes in the vineyard later today to decide whether they will be ready to pick on Monday or if they will need a few more days of hang time. Not sure about the Syrah harvest schedule since the grapes are close but need another nudge of heat to make them perfect.
10/8/12
: The last of the Pinot Noir was harvested this morning from the Cargasacchi Vineyard. Incredible fruit, but again, lower yields than projected. Looks like we'll only have four barrels of Cargasacchi Pinot, or roughly 100 cases.
10/20/12
: Overall, we are extremely pleased with the 2012 Harvest! This was an earlier harvest than in recent years. The weather was fantastic, with a couple well timed warm spells that helped the grapes reach full maturity. Yields in some vineyards were back to more average size crops, but yields in our late ripening Pinot Noir vineyards were way down, which will mean excellent concentration and complexity in the grapes. The wines are very dark and beautifully balanced. It will be hard to wait for these wines to be ready to drink!