2021 Harvest
September 8, 2021
: Harvest 2021 is underway, about two weeks later than average. This morning we picked 6 tons of beautiful Pinot Noir from
Rio Vista Vineyard
Block 7.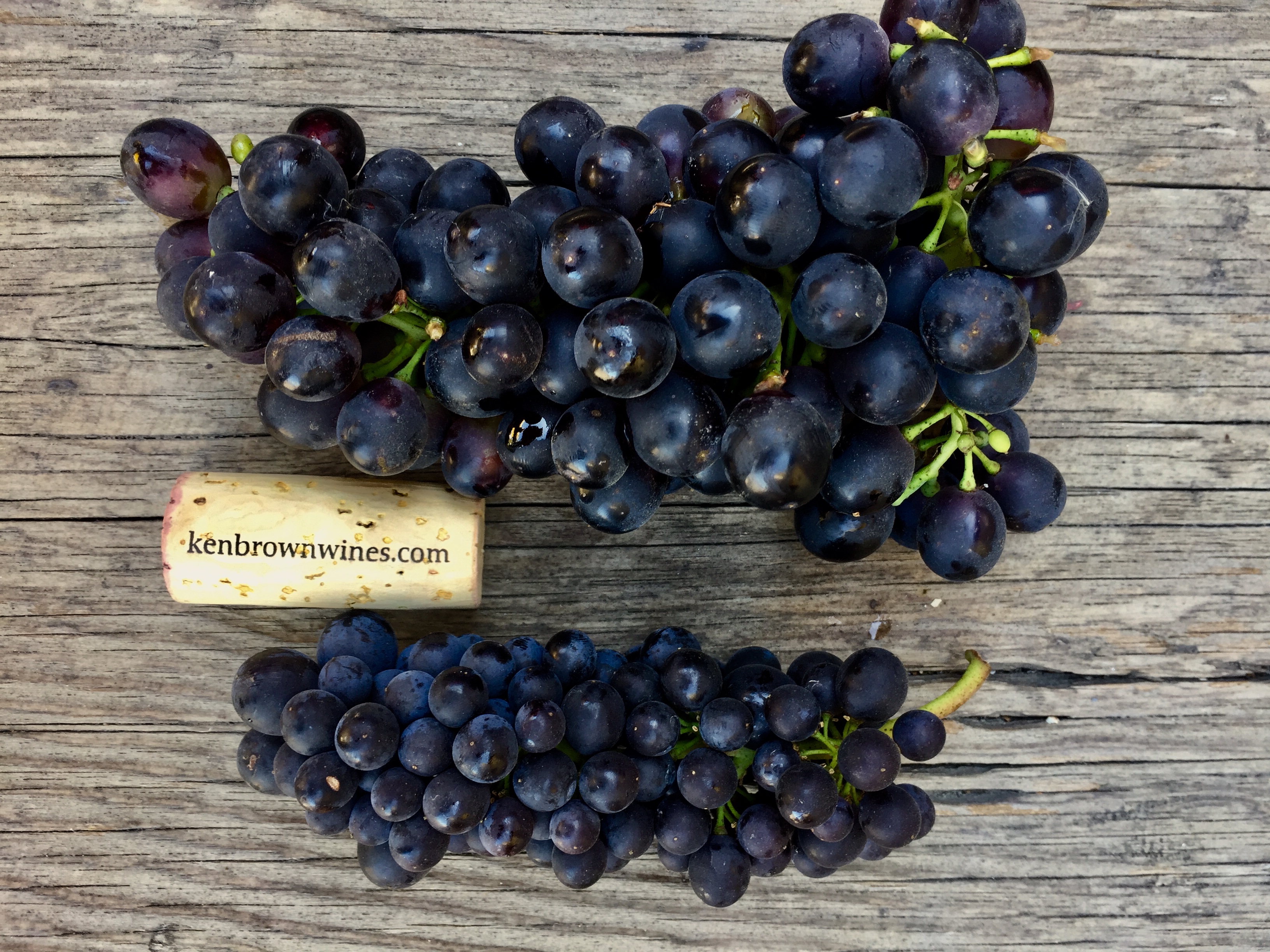 September 22, 2021
: Conditions continue to be cool and two weeks after our first pick, we brought in 2.4 tons of Clone 943 Pinot Noir from
Sanford & Benedict Vineyard
Block 4D. Winemaker, Ben Van Antwerp snapped this compelling shot of a tiny Clone 943 cluster side by with a larger Clone 115 cluster from another vineyard not sourced by Ken Brown. The small berries and compact size of Sanford & Benedict Clone 943 results in better skin to juice ratio, greater intensity and more complex flavors.
September 23, 2021
: This morning we pressed our Rio Vista Pinot Noir after it had completed fermentation. We're particularly impressed with the quality of Rio Vista this year! It has been a mainstay of our Sta. Rita Hills blends over the years, but we may consider a single-vineyard bottling to really let it shine.
September 24, 2021
: A two-pick day for us. We harvested 1.5 tons of Swan Selection Pinot Noir from
Mt. Carmel Vineyard
Block 2C, located in the heart of Sta. Rita Hills just below the esteemed Rita's Crown Vineyard. We also brought in 1.6 tons of Clone 115 Pinot Noir from
Vineyard Francesca
Block 3C. This is our first vintage using fruit from this small, sought-after property. Its location west of Radian Vineyard makes it one of the coldest vineyards in Sta. Rita Hills with a stronger Mediterranean influence due to its proximity to the Pacific Ocean. There was some evidence of powdery mildew at Vineyard Francesca, but our vineyard team did an excellent job hand harvesting around any problem areas and we are confident this Pinot Noir will be a great addition to our line-up.
September 27, 2021
: Monday madness with two picks at
Peake Ranch
. We harvested 1.6 tons of Clone 115 Pinot Noir from Block 14E and 1.5 tons of Calera Clone Pinot Noir from Block 11B. The cool weather this fall has meant slow ripening and low Brix, but the long hang time has encouraged nicely developed and ripened fruit at lower sugars.
October 3, 2021
: Today we brought in 2.7 tons of Clone 115 Pinot Noir from
Rancho La Viña
, Block 12. Like every sector, we are experiencing some labor shortages, but quality of the Rancho La Viña fruit looks great.
October 6, 2021
: Brought in some great looking Pinot Noir today: 1.6 tons of Clone 667 from
Mount Carmel, Vineyard
, Block 5B, and 1.6 tons of Clone 667 from our consistently stellar Block 41 at
Radian Vineyard.


October 12, 2021
:
Chardonnay Day! We harvested two separate Chardonnay blocks at
Sanford & Benedict Vineyard
: 1 ton of Old Vine Block T4, Clone 4 Chardonnay and 1.5 tons of Wente Clone Chardonnay from Block 4A. Both lots were gently whole-cluster pressed. After settling and clarifying, the lots will be transferred to French oak barrels for fermentation.
October 18, 2021
: Exactly one month later than last year's harvest date, our
Radian Vineyard
Block 40, Clone 115 Pinot Noir was picked today, bringing to a close the 2021 Ken Brown harvest! Our crew welcomed 1.7 tons of this beautiful fruit.