2013 Harvest
9/9/13
:
HARVEST 2013 IS UNDERWAY!
We brought 3.25 tons of beautifully ripened Sauvignon Blanc from the Vogelzang Vineyard in Happy Canyon. Located in the most southeastern corner of Santa Ynez Valley, the site receives more heat units than other parts of the valley, perfect for high quality Sauvignon Blanc.
9/10/13: Brought in 4.0 tons of Pinot Noir from the first pick at Rio Vista Vineyard in Sta. Rita Hills. This block is the 667 clone and it looks beautiful. Warm temps forcasted for this weekend. Next week will be non-stop!
9/15/13:
The heat bump predicted for this weekend did not materialize, so I have pushed back this week's harvest by a few days. Nielson Vineyard Pinot Noir is expected this week, as well as Zotovich Pinot Noir. This year's vintage is shaping up to be another excellent year with crop size looking to be slightly larger than normal. Temperatures for most of the summer have been normal to slightly below normal creating good hang time, which generally results in better character and color in the wines.
9/18/13
: We harvested 3.4 tons of Zotovich Pinot Noir today. The 2012 Zotovich Pinot Noir was bottled last Thursday, and we're hoping that the 2013 will turn out to be just as outstanding.
9/19/13
: At this point, harvest has been more of a waiting game because of the cool weather. We are scheduled to pick 5 tons of Nielson Pinot Noir tomorrow so it will be a big day. Hoping to pick some of the vineyards that have stalled next week. Rita's Crown, more Rio Vista and first pick at Clos Pepe are on the schedule assuming we have some heat over the next 4 or 5 days.
9/20/13
: Spent the morning in the historic Nielson Vineyard in Santa Maria Valley where we harvested 5.5 tons of great looking Pinot Noir. We plan to do a juice draw, or "saignée" from this lot to make our first Vin Gris since 2006!
9/23/13
: Mother Nature has given us a nice heat bump of warmer temperatures which has been perfect for the grapes. This morning we harvested our second pick of Pinot Noir from Rio Vista Vineyard. Clos Pepe and Rita's Crown are also on the schedule for this week.
9/25/13
: One of our very best Pinot Noirs for the past three years has come from Rita's Crown Vineyard high above the Sta. Rita Hills. We harvested our 3 blocks (clones 666, 777 and 828) yesterday and today and the must in the fermenters are showing great promise.
Clos Pepe is one of our premier vineyards and one that we have made wines from for over 10 years. We do two separate pickings of our Pommard clone since our section is on hill with a steep south slope and a steep north slope. The south slope was harvested today and the cooler north slope is scheduled to be picked on October 2, allowing more hang time to compensate for its northern aspect.
9/27/13
: Brought in Pinot Noir from one of our newer vineyards, Buona Terra, which is at the far west end of Sta. Rita Hills very near Cargasacchi Vineyard. As was the case last year; this year's wine looks incredibly dark in the fermenter and has an intense dark cherry aromatic.
9/30/13: We harvested our Watch Hill Syrah today. These were some of the best looking and tasting grapes I have seen in a long time and will likely lead to a wine that is as equally outstanding!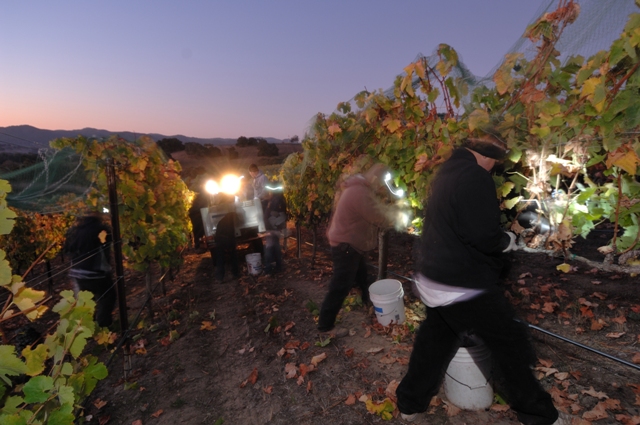 We anticipate two picks at La Encantada Vineyard beginning on Wednesday with the Swan selection, which is a personal favorite, and then the clone 115 on Monday, October 7. This day will likely be our biggest harvest day this vintage as we will be also bringing in both our blocks from Radian Vineyard (clones 115 and 667), located at the extreme western edge of the Sta. Rita Hills appellation and usually one of the last to ripen. Next week should wrap up our Pinot Noir harvest with the Cargasacchi Vineyard.
This will leave McGinley and Thompson Vineyard Syrahs to harvest hopefully before the end of October. Our Thompson Syrah section is on its own roots meaning that they were planted without the normal resistant rootstocks. These vines typically ripen later than grafted rootstock but the extra wait for Thompson Syrah is always worthwhile!


10/1/13
: Harvested the last of our Rio Vista Pinot Noir!
10/2/13
: Brought in our first pick from La Encantada Vineyard, which is the Swan selection of Pinot Noir. We also harvested our second pick of Pinot Noir from the north slope of Clos Pepe Vineyard.
10/7/13
: Our first Radian pick was from our Block 41 (clone 667) on Saturday, Oct 5
th
. We finished up Radian with Block 40 (clone 115) today along with our second pick at La Encantada (also clone 115). With the harvest of these two vineyards, we wrap up our Pinot Noir harvest for 2013!
The 2013 Pinot Noir vintage in Santa Barbara County will be remembered as one of the best vintages in many years from a weather perspective. Every week brought us a warm up and then it would cool down again. This type of weather pattern is ideal as the grapes ripen slowly and give the vineyard and winery crews the time they need to harvest and process the grapes. We need rain here in Santa Barbara County, but as a winemaker, I am relieved we have not had any to date during this harvest season--a great omen for many outstanding Pinot Noirs ahead. We pressed off our first two Pinot Noirs which are both in barrels at this time. The balance of the Pinots are in fermenters.
10/8/13
: Brought in our Syrah from the McGinley Vineyard in the Happy Canyon AVA of Santa Ynez Valley. Very pleased with the quality--looks fantastic! Just waiting now for the Syrah from Thompson Vineyard, located in Los Alamos Valley. These grapes need one more heat bump and the forecast is predicting it will be a least a week before we see a significant rise in temperatures.
10/13/13
: First pick of Thompson Syrah brought in today, about 2 tons. Really nice white pepper and dark plum flavors.
10/17/13
: Today we harvested one and a half tons of Syrah, the second pick from the Thompson Vineyard, and our last load of grapes from the 2013 vintage! Winemakers up and down the state are touting 2013 as one of the best in recent memory. Quality is excellent and yields are healthy due to a greater number of clusters on each vine, and not to larger berry size, which can compromise quality.