2014 Harvest
8/25/14: The 2014 harvest is here! This is the earliest harvest on record for Santa Barbara County. Today is our first day of picking grapes and we're hitting the ground running. We are bringing in Chardonnay from Nielson Vineyard, Pinot Noir from Rita's Crown and Sauvignon Blanc from Vogelzang. Please join us in raising a glass and toasting to another great vintage. Cheers!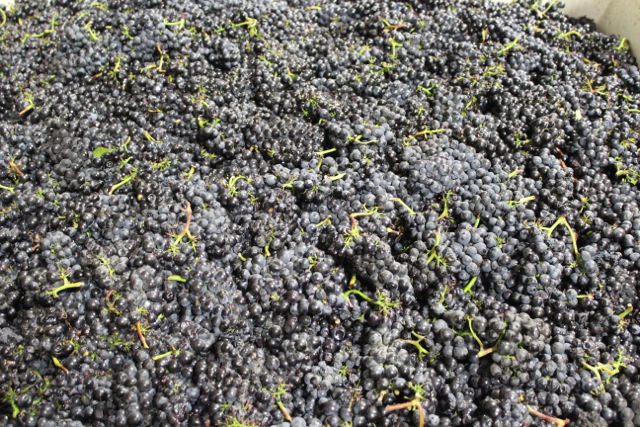 8/26/14: Today we are picking some clone 667 Pinot Noir at Rio Vista. This vineyard is located at the eastern end of the Sta. Rita Hills. Here the slightly warmer (by Sta. Rita Hills standards, anyway) temperatures bring smooth tannins and rich fruit flavors to the grapes. In most vintages this is the first Pinot we bring in, but this year Rita's Crown edged it out by a day. Just goes to show how no two harvests are the same.
8/27/14:
Today we have Chardonnay coming in from Rita's Crown. This young vineyard was planted as recently as 2007 but it is already producing some amazing grapes. These south-facing slopes reach almost 1,000 feet above the valley floor, where the combination of cool breezes and plentiful sunlight produce beautiful and elegant Chardonnay and Pinot Noir. This will be our first bottling of Chardonnay from Rita's Crown since the 2011 vintage and we can't wait for it to be ready.
8/29/14: The harvest continues today with more Pinot Noir from Rita's Crown. The sugars are right where we want them and the flavor of the berries is excellent. This is shaping up to be another outstanding vintage in Santa Barbara.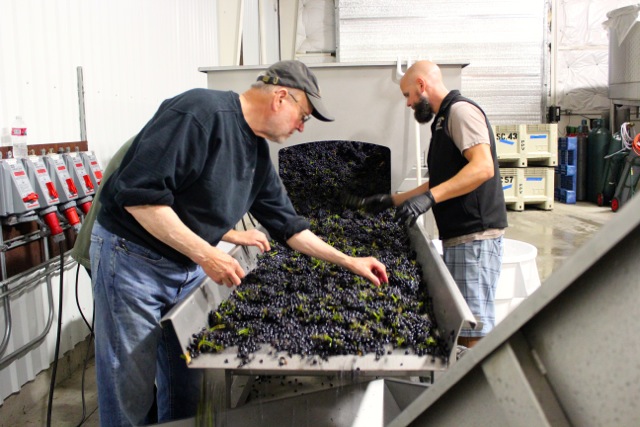 8/30/14:
Today we are picking Pinot Noir at the Radian Vineyard. This vineyard is located at the southwestern end of the Sta. Rita Hills AVA. Ken consulted on the planting of this vineyard in 2007, and it has quickly become one of the new superstars of the appellation. Rocky soils, south facing slopes, and lots of cool ocean wind make this vineyard perfect for Pinot Noir. We are also bringing in more Pinot Noir from Rio Vista Vineyard.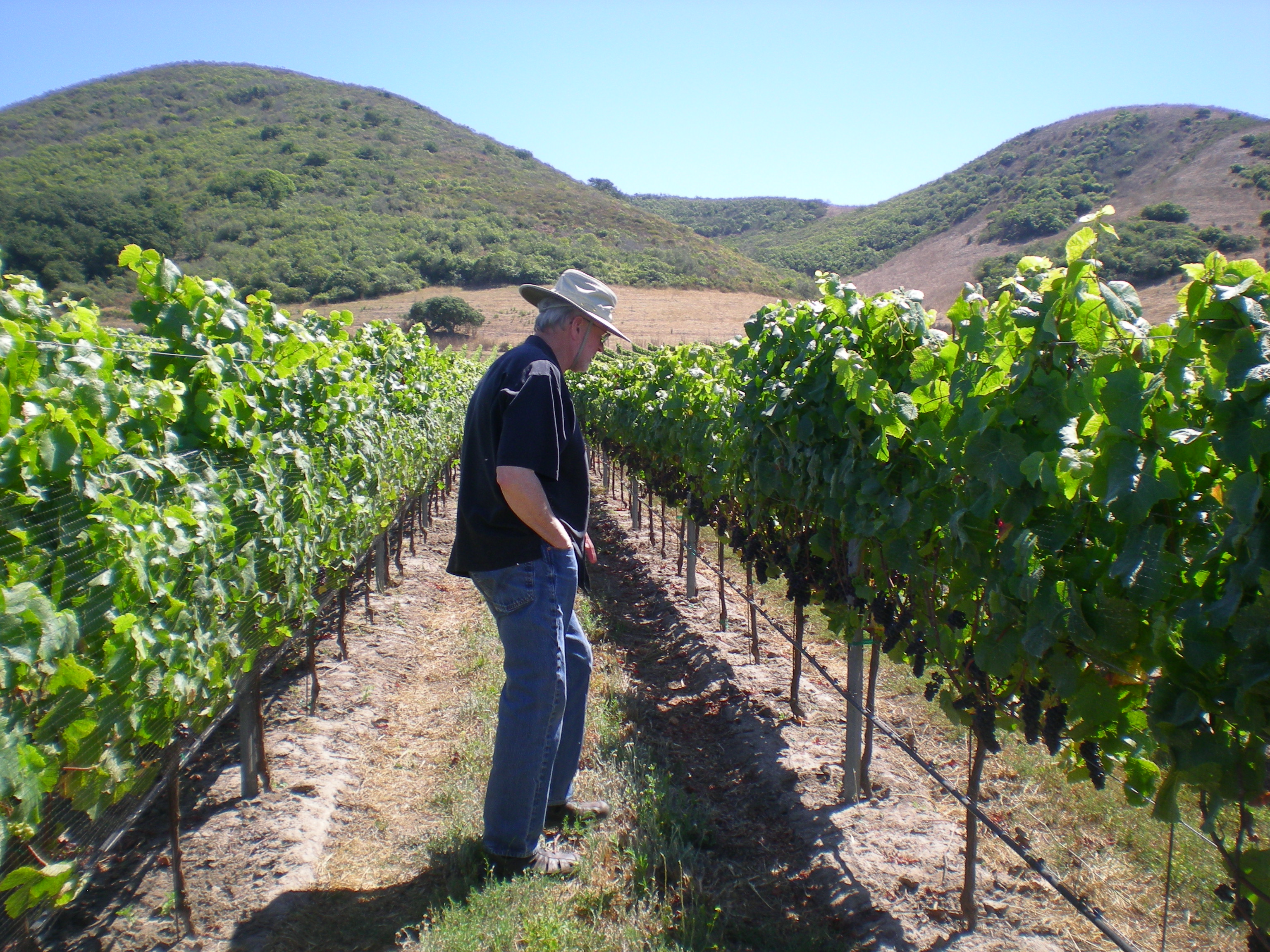 9/1/14: Today we are picking some Pinot Noir at Rancho la Viña. This small 17-acre vineyard is close to the western edge of the Sta. Rita Hills and grows outstanding Pinot Noir. This year's crop is shaping up to offer some bold, rich and elegant wines. Now if only we didn't have to wait so long to drink them!
9/2/14:
Today we were back in the Sta. Rita Hills and picked 3.1 tons of Pinot Noir from Buona Terra Vineyard. At this point we are 63% of the way through harvest--earlier than most harvests begin in a normal year! We anticipate a small break in the action over the next few days as we turn our attention to bottling some of our 2013 wines on Thursday.
9/7/2014:
Temperatures have been cooler over the past few days and has slowed down the ripening process a bit. Ken visited two of our Syrah vineyards today--McGinley in the Happy Canyon area of Santa Ynez Valley and Watch Hill in Los Alamos Valley. Both are looking great and could be harvested as early as the end of this week or next week. On Tuesday, Ken anticipates picking the second block of Pinot Noir at Rio Vista Vineyard, the 115 clone of Pinot Noir at Radian and the Swan clone at La Encantada Vineyard. Another busy day!
9/9/2014: Some cooler weather last week gave us a brief respite over the weekend, but we're back out in the vineyards today to pick some more grapes. Today's harvest is Pinot Noir from the Radian and La Encantada vineyards. The pick includes some Swan selection Pinot, one of Ken's personal favorites.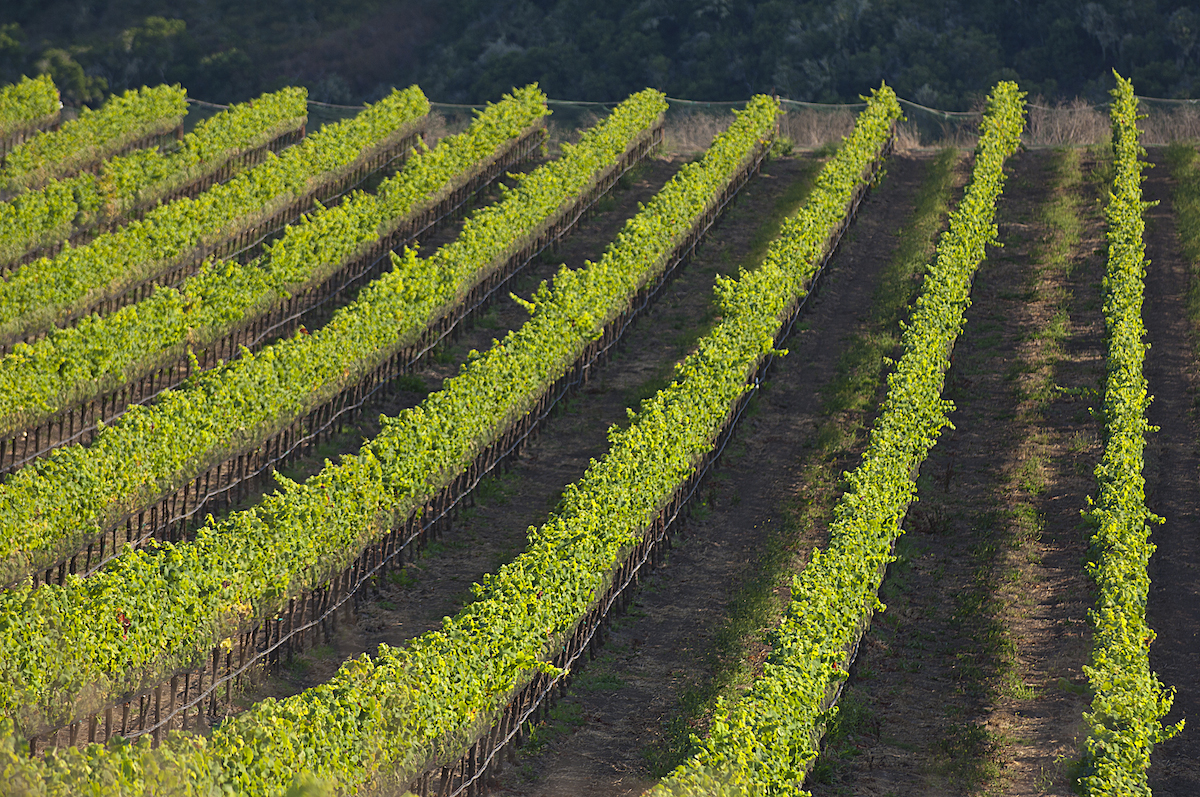 9/10/14:
Today we brought in Rio Vista fruit from two different blocks, clones 115 and 777.
9/12/14:
Our first pick of Syrah for 2014! We had fruit come in from Watch Hill in a relatively cool part of the Los Alamos Valley, and from McGinley Vineyard in the warmer Happy Canyon area. Ken really embraces the differences between cool climate and warm climate Syrah and enjoys working with both.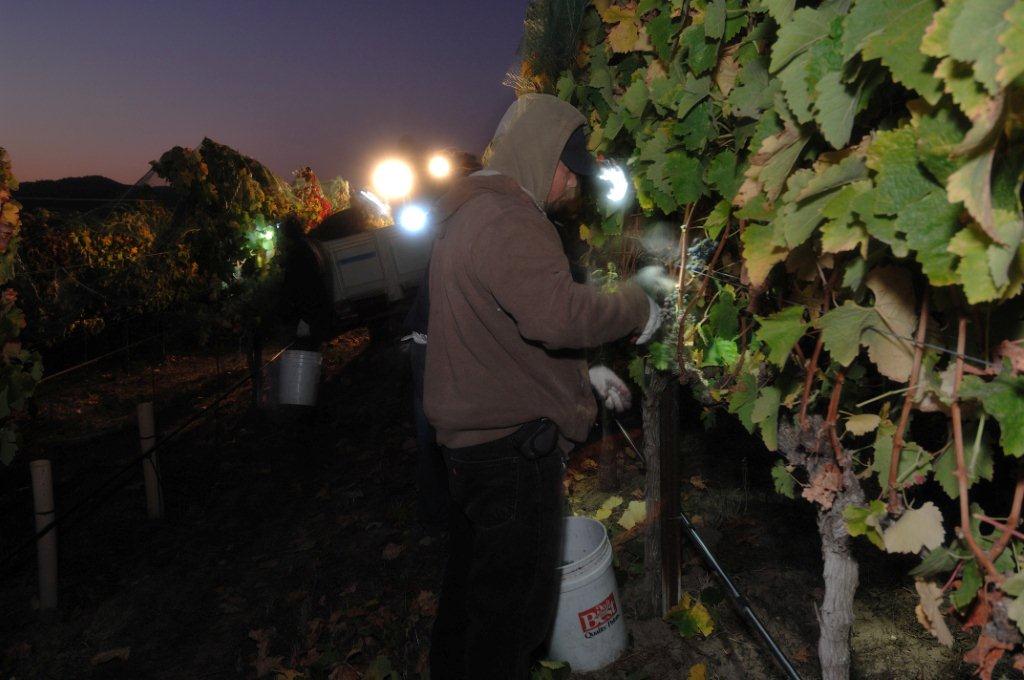 9/16/14: We are harvesting the last of our Pinot Noir today. Fruit from La Encantada and Rita's Crown. Hard to believe how fast this year's harvest has gone. All we have left on the vine now is a bit of Syrah.
9/26/14:
We're finishing up the 2014 harvest today, bringing in Syrah from the Thompson Vineyard in Los Alamos. There is still lots to do, though. Plenty of wine still fermenting that will need to be drained, pressed and racked to barrel before it can rest. After that, a much-deserved vacation for Ken.
FINISHED BEFORE OCTOBER 1ST !! THIS IS A FIRST!