2015 Harvest
August 12, 2015: Hold on to your hats, the 2015 harvest has begun!! Sauvignon Blanc grapes at Vogelzang Vineyard in Happy Canyon were picked in the pre-dawn hours early this morning. This is 12 days earlier than the start of the 2014 harvest, which had set a record for the earliest harvest in Santa Barbara County! It appears that grapevines are becoming an excellent story teller of how rapidly climate change is actually happening. The past three years have seen earlier and earlier starts to harvest with very mild winters and average night time lows about 3 degrees higher than long term averages. This phenomenon seems to directly correlate with the temperature increase in the Pacific Ocean just off our coast. Where this is all heading no one really knows. We are hoping that El Nino brings us above average rain fall this year, but from a vintage quality standpoint, it would be perfect if the serious rains hold off until November.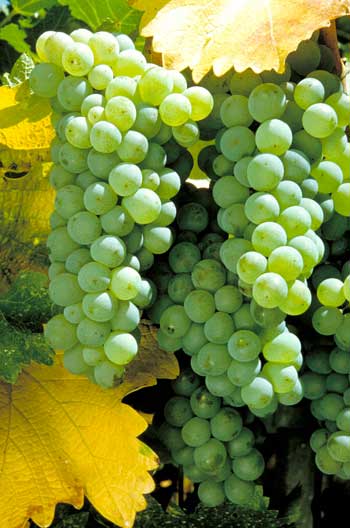 August 18, 2015
: Spent the last few days bottling most of our 2014 wines despite a few glitches in the bottling line. Today we harvested our first Pinot Noir of the season from two Sta. Rita Hills vineyards. We picked Block 7 (clone 667) at Rio Vista Vineyard at the eastern end of the appellation, as well as Zotovich Vineyard (clone 114) located in the northern corridor of Sta. Rita Hills.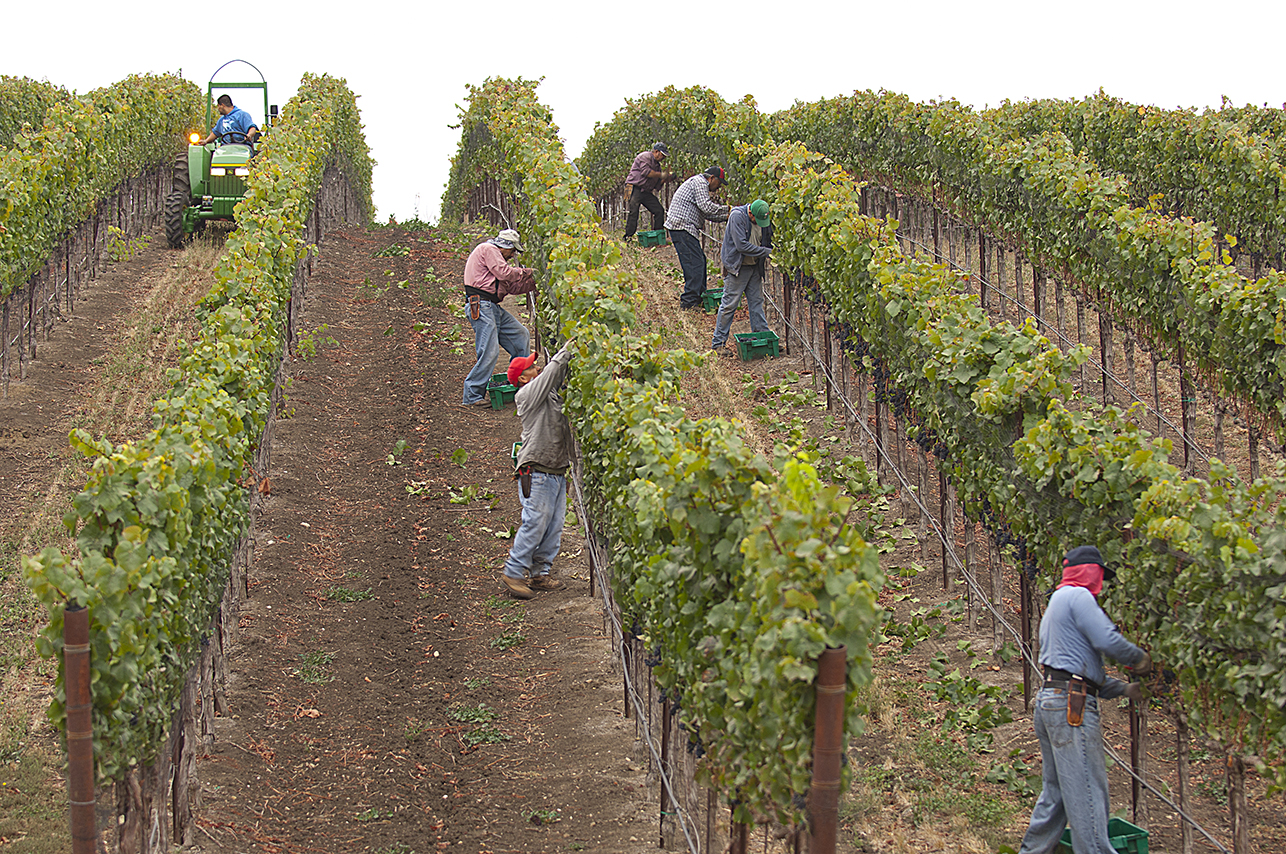 August 19, 2015: Back out to Sta. Rita Hills early this morning to pick the Rita's Crown Pinot Noir, Block 14A (clone 667). Rita's Crown Blocks 14B (clone 777) and 14C (clone 828) will be ready in about 5 days. Barrel fermentation of the Vogelzang Sauvignon Blanc harvested on August 12 is nearly complete.
August 24, 2015:
For the first time in a decade, we are pleased to again be picking some Pinot Noir from the historic Sanford & Benedict Vineyard. Small clusters and very low production, like elsewhere in Sta. Rita Hills. This vintage is shaping up to be the lowest yielding vintage since our region first became recognized for its wine production in the mid 70's. Pinot Noir in low-yielding vintages usually gets hit the hardest and 2015 is unfortunately an excellent example. Across the Central Coast, Pinot Noir yields are reported to be down by 30-50%. We are also seeing lower yields in both Sauvignon Blanc and Syrah. Chardonnay looks to be on track to have about average yields.
August 25, 2015: The fast pace continues... harvested some beautiful Pinot Noir from Rancho La Vina today.

August 26-27, 2015: Spent these two days back out to the windy slopes of Rita's Crown Vineyard. Picked Block 14B and 14C Pinot Noir on Wednesday, and Chardonnay on Thursday.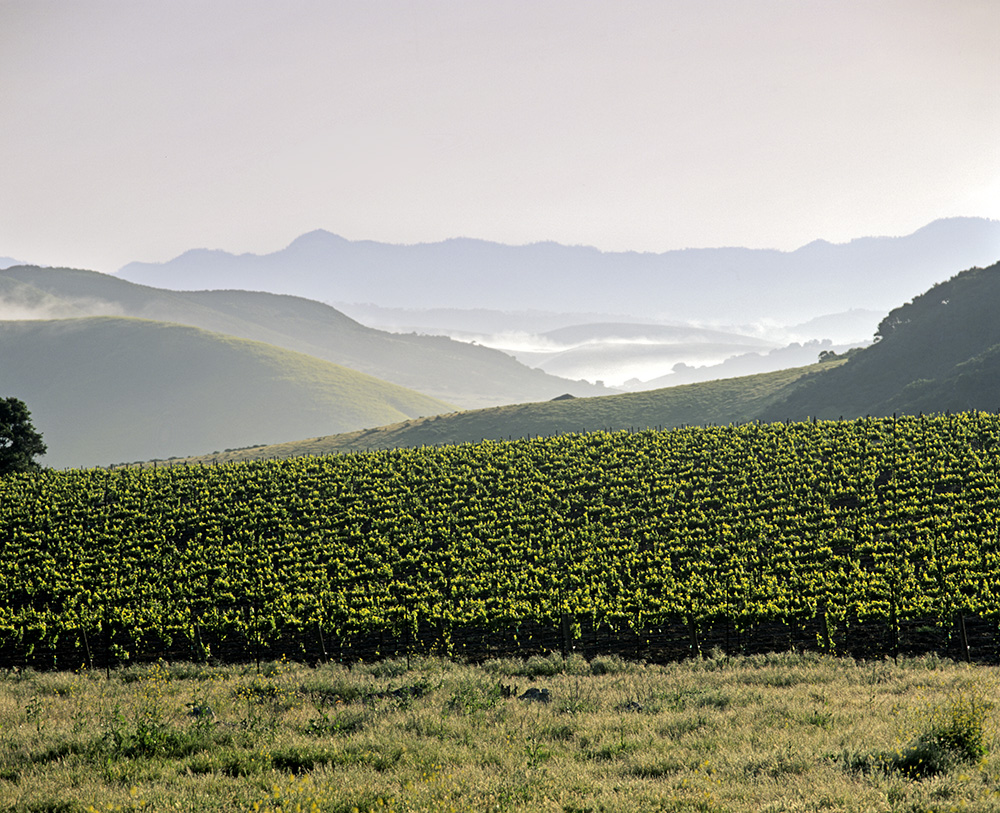 August 29, 2015:
Finished up our picking at Rio Vista today with 2 blocks of Pinot Noir. We'll wrap up the Pinot Noir harvest this coming week with La Encantada and Radian. Both of these vineyards look spectacular so expectations are high for more outstanding wine from these vineyards. We're also expecting to harvest our La Rinconada Chardonnay in the week ahead along with two of our three Syrah vineyards. Before the end of the first week of September we will only have the always late, but great Thompson Vineyard Syrah left on the vine, which is likely to be harvested mid to late September. It's too early to speculate how wine quality will play out in fermenter, barrel and bottle. Usually lower yields result in higher quality since berry size is normally smaller which is certainly a factor this year. The lack of rain has resulted in some of the best looking grape clusters ever and all fermentations are progressing very well. All signs are pointing to outstanding wine quality but lower yields will give way to lower wine production.
August 31, 2015:
Brought in 3.5 tons of gorgeous Pinot Noir from Block 41 (clone 667) at the scenic Radian Vineyard. (The 2012 Radian Pinot Noir--our first single-vineyard wine from this great vineyard--will be available later this year.)
September 1, 2015:
Syrah from the McGinley Vineyard in Happy Canyon harvested this morning. Astonishingly early date for Syrah! The grapes will be co-fermented with a small amount of Viognier, a Rhone tradition that adds a touch of brightness and floral notes to the finished Syrah. Also brought in Swan clone Pinot Noir from La Encantada Vineyard--one of Ken's favorite clones.
September 4, 2015:
Harvested our second block of Radian Vineyard Pinot Noir (clone 115).
September 5, 2015:
Picked our second section of Pinot Noir from Rancho La Vina as well as our second block of Chardonnay from La Rinconada Vineyard, both in Sta. Rita Hills.
September 8, 2015:
Wrapped up our Pinot Noir program today by picking our La Encantada (clone 115) section which is often one of the last Pinot Noir to be harvested. Happily we have ended up to be on target for our 2015 Pinot Noir plan, which looks to be excellent in all quality parameters. We have begun pressing the earliest Pinots and are in the process of inoculating them for malo-lactic fermentation. With the heat wave we are currently experiencing, we are targeting early next week to harvest the last of our Syrah from the Thompson Vineyard in Los Alamos Valley.
September 21, 2015:
Syrah from the acclaimed Thompson Vineyard picked today. Brix, acidity and flavor profile at optimal levels. Not the same for yields--only 1.0 ton per acre, well below our estimates of 2.5 tons per acre. Wines will be in short supply, but high in quality. Brings the 2015 harvest to a close at Ken Brown Wines!